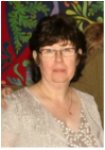 I am Phil Langford and I own Patchwork Parade. I began my craft journey making soft toys and knitting. I then progressed to taking a City and Guilds in Toy Making at Oldham Lifelong Learning Centre. I enjoyed learning many different techniques and was delighted to be awarded a Highly Commended grade for my efforts. I then moved on to City and Guilds Soft Furnishing and finally I discovered Patchwork. This changed my life.



I became obsessed with understanding the techniques and processes involved and I enrolled on a Patchwork Course again at Oldham LLL. In 1999 I also started a Patchwork group, the Broadway Stitchers, which I ran for over 10 years and we raised thousands of pounds for charity, raffling quilts and hold exhibitions. After several years attending LLL classes I was asked if I would like to teach the class. I was very surprised but delighted to be given the opportunity to spread the word and I began teaching first one class a week, then two and three. Each year I held a class exhibition when the students' work was put on display. Visitors were always amazed at just what a complete beginner could achieve with the proper tuition. As the years went by, the standard and the complexity of my students' work improved and was admired by all. In 2008 I began City and Guilds Patchwork and Quilting, completing an online course run by renowned quilter Linda Kemshall. I learned more new and more complex techniques and gained design skills too. Around this time I was also asked to take a qualification in adult education, and I enrolled at the University of Huddersfield for the Post Compulsory Certificate in Education. I graduated in November 2009 and got my cap and gown. (One of the proudest days of my life to date).

I am well known for being "the quilt police", making sure that corners match, seams allowances are accurate and that everything fits together properly. This ensures that the quality of work done by my students is of a very high standard and this is always commented upon by visitors. I feel it is very important to teach all of the basics properly in order to achieve a high standard of work. I am lucky to have taught dozens of students and I know that all of them are still as enthralled with patchwork as I am. I continue to learn everyday and to teach most days of the week. I love seeing new students' reactions when they complete their first projects and the inspiration it gives them to try something more complex and challenging.
I have entered my quilts in The Festival of Quilts and the Great Northern quilt show and was lucky enough to get a Judges Merit for my Convergance Quilt (using Ricky Tims' method and this started my love of his work and culminated in his visits in April 2012 and July 2017) Additionally, I have been the Region 13 Area Representative for East Lancashire in the Quilter's Guild of Great Britain.
My current shop, Patchwork Parade, opened in September 2010, following a devastating fire in December 2009 in the precinct where I was co-owner of another Patchwork shop, the Bubble Patch. The fire damage was severe and following many months of looking for an alternative site for my first solo venture, I stumbled upon my current premises in mid- August 2010. After a whirlwind few weeks, commissioning shop fittings etc, the shop was officially opened on my husband Neil's birthday, 14th September, by my lovely mum Doris. With support and encouragement from friends and family, my dream of owning my own patchwork shop became a reality.
There are classes and workshops available for all skill levels in a wide range of craft areas. We are lucky to have had workshops at the shop by well known British quilters Philppa Naylor and Pat Archibald. I love their work and strive to achieve the very high standards they both produce. I look forward to welcoming both of them back. I am also thrilled that famous American quilting legend Ricky Tims also came to my shop and gave two lectures in Oldham in 2012 and am delighted he paid us a return visit in July 2017.